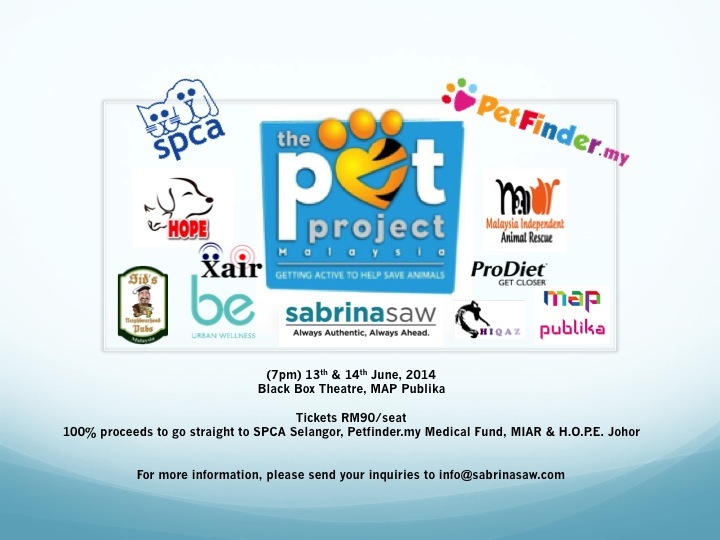 As the third installment of The Pet Project Malaysia, Pet Project 2014 is a 2-hour showcase in aid of raising funds and awareness for FOUR registered animal welfare NGOs across Malaysia. Over the last six months, 136 youth have rehearsed tirelessly in hopes of conveying and sharing strong messages for the cause through the medium of dance, theater and media.
Catch jaw-dropping performances by award-winning choreographers Sabrina Saw (UNESCO International Dance Council) and Tony Stone (Michael Jackson, Beyonce, Justin Timberlake, The Prince's Trust, etc) as well as our favorite Malaysian celebrities. All for our animals.
ALL PROCEEDS GO DIRECTLY TO OUR BENEFICIARIES AT THE END OF EACH NIGHT ensuring this is a 100% transparent event.
Performance teams include: Chiqaz (junior elite team and venue sponsor), Mystique (1st place winner at SuperDance Competition 2014, St. Petersburg), Silversteppers (2nd place at SuperDance Competition 2014, St. Petersburg), The Merge, Part Deux, Pandu Puteri National Dance Teams, Let's Dance by The Curious Academy, Kolej Tuanku Jaafar Dance Fusion, Nexus International School Dance Fusion, Jellybeans and so much more!